How Skateboarding Became a High-Fashion Obsession
The onetime outsider culture is now thoroughly enmeshed with the world of style.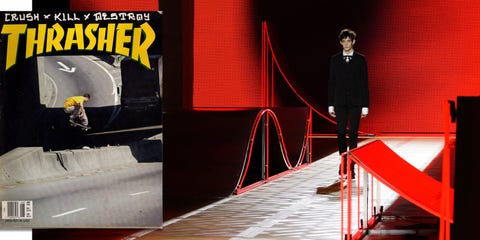 THRASHER, IMAXTREE
At Paris Fashion Week last year, Dior Homme debuted its fall/winter 2016 collection on a catwalk adorned with neon-lit skateboard ramps. For those in attendance, the obstacles were an aesthetic theme—a way for the Paris fashion house to augment its glitzy offerings with an off-kilter vibe. But in reality, the launch ramps and halfpipes were part of a broader fascination that's been sweeping the fashion world for years: the creative and urbane skateboarder.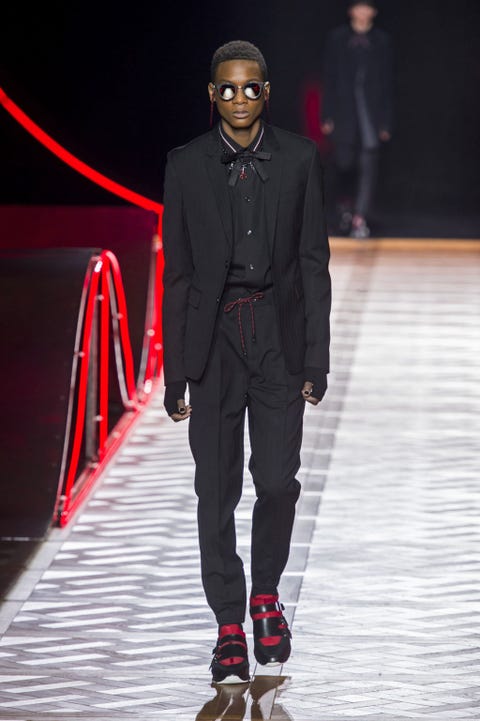 Dior
On the surface, there are few cultural products more diametrically opposed than high fashion and skateboarding. One is a gritty counter culture that evolved in the streets; the other is dreamt up by designers looking to charter new stylistic terrain. But that hasn't stopped the unlikely marriage from reaching an apex. Skating has been a point of fascination for Vogue—the magazine published its editorial "Skate Week" package to a mirthful reception last year—while haute couture giants, independent designers, and mega-retailers have repeatedly cashed in.
At this point, the pairing of runway models and skateboards is almost standard fare on catwalks across the world. In some cases, it works: The late Dylan Rieder famously modeled for DKNY, while other pros, such as Alex Olson and Eli Reed, supplement their skating careers by running boutique brands. But the industry's obsession with skateboarding hasn't come without an uproar. Allegations of copyright infringement have been leveled, and the skate community has been swift to make noise over the appropriation of its beloved culture.
Perhaps no skateboard brand has been so endlessly copied and woven into the mainstream fabric as Thrasher. The magazine has occupied a coveted space in the skater's imagination since its founding in 1981. It's longtime editor Jake Phelps, known for being caustic and sharp-tongued, made headlines last year when Justin Bieber and Rihanna were photographed wearing Thrasher T-shirts. At the time, the celebrities seemed to spark his ire: "We don't send boxes to Justin Bieber or Rihanna or those fucking clowns," he said.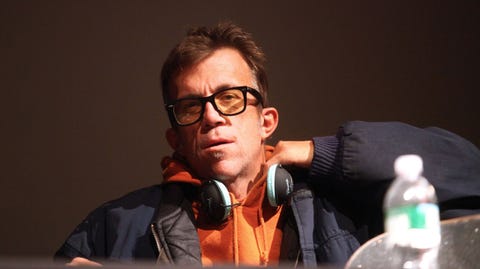 Jake PhelpsAstrid StawiarzGetty Images
For his part, Phelps tells Esquire that his words were "taken out of context." Phelps was in Greece at the time, and claims he was sitting at a bar when the story made national news. He watched it unfold on TV, shaking his head. "The reason they wear the gear is because it's stylish and people went and bought it for them, they don't know what Thrasher is," he says.Splash News
For someone who's never collided with asphalt, or felt the sting of a board slapping them in the knee, wearing an old skate logo can ultimately be seen as a farce. "There's a lot of cultural heritage surrounding skateboarding with those old graphics," says John Rattray, a longtime professional skateboarder for companies like Zero Skateboards and Osiris Shoes. "If skating has given you some respite from a shitty life, then there's a lot of emotional connection to that stuff that can be taken for granted or overlooked," by people who don't skate, he says.ADVERTISEMENT – CONTINUE READING BELOW
Brendon Babenzien, the founder of menswear brand Noah and an early employee of streetwear giant Supreme, says it's perfectly clear why high-fashion labels are fascinated with skateboarding. "Skaters are incredible, intelligent, and creative, and people want a piece of what they've got. It's really that simple," he tells me at his Manhattan retail store. For Babenzien, who grew up skateboarding around New York City in the '80s, the fashion world's appropriation of skate culture isn't new, but it still irks him, even at 45 years old.
"Skaters…they've historically been outcasts," he says. "One day you're an outcast and the next day everybody wants to wear the clothes you're into and lay claim to it? You're going to be a little annoyed by that."

Ben Sillons
The use of skateboarding iconography, notably by several different fashion designers and retailers, has left behind a trail of legal disputes and several feuds. Jim Phillips, an artist whose designs for Santa Cruz skateboards earned him legendary status in the California surf and skate scene, had his graphics stolen by designer Jeremy Scott and used in a 2013 New York Fashion Week show. The incident birthed a prolonged squabble brokered by lawyers, culminating in Scott delivering an apology to Santa Cruz' parent company, NHS Inc., and agreeing to destroy the infringing garments.
Incidents like these have grown more common: Russian designer Gosha Rubchinskiy has often used old Thrasher graphics in his high-end menswear collections. Just last year, the magazine had its logo copied by both H&M and Forever 21, with one episode requiring intervention from H&M's lawyers. There was no real protracted struggle with the retailers, though, as Thrasher seemed satisfied telling both brands to "FUCK OFF" in separate Instagram posts.
Phelps is kind of indifferent about these incidents. If anything, it's indicative of the magazine's swelling popularity: "People want to buy skateboarding because they understand that skateboarding is the hardest thing to do," he says. "We sell the brand. Thrasher is a business, it means 'fuck you' to me."
---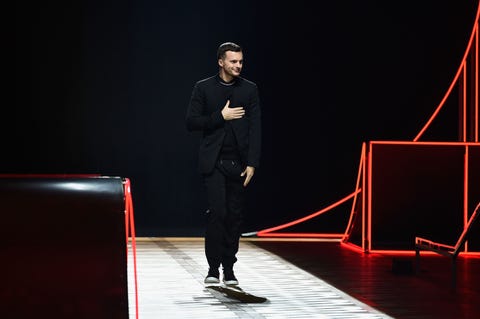 Dior Homme's Artistic Director Kris Van Assche has referenced skating in various campaigns. He tells Esquire why the sport has informed some of his work: "Skating is everywhere and comes with a lot of its own codes and rules. As a designer, I like to take these codes and oppose them. Take them out of their boxes and comfort zone and put them into a new perspective."
While Van Assche has no illusions about his work or label—"Dior Homme is not a skater's brand," he says—the incorporation of skateboarding and high fashion often requires a slight suspension of disbelief. Van Assche teamed up with Kids director Larry Clark last year to promote a line of sneakers which originally hit the market for $890. The models in the video, who are seen hanging out and skating at the famous Parisian skate spot Palais de Tokyo, look like the epitome of cosmopolitan youth. They're composed and beautiful, sporting outfits tailored to perfection and sold at a premium. For Van Assche, the campaign's focus was more about "youth culture" and less about skateboarding, but the imagery probably looks weird to a skateboarder who's never pushed uphill in designer low-tops.
And as for Thrasher, Jake Phelps says he could honestly care less if a celebrity or fashion designer wants to rep the magazine. For him, Thrasher "tells it like it is," and will always be for skaters and their community at its core."

Trasher Magazine
As skateboarding has grown in popularity—it's poised for its Olympic debut at the 2020 Games in Tokyo—several companies have emerged that increasingly toe the line between a skate brand and a chic clothing line. Supreme, which started as a Lower East Side skate shop in the early '90s, has ballooned into a global streetwear powerhouse that's earned its founder James Jebbia something near a $40 million fortune. Newcomers like London-based Palace Skateboards have also helped hasten the crossover. Both companies have a cultish appeal and sleek retail stores that smack of a boutique sensibility. Similarly to streetwear behemoths like Kith and Undefeated, they regularly host much-hyped product drops that attract huge crowds—but they also stay true to skateboarding's roots by sponsoring skaters and releasing skate videos.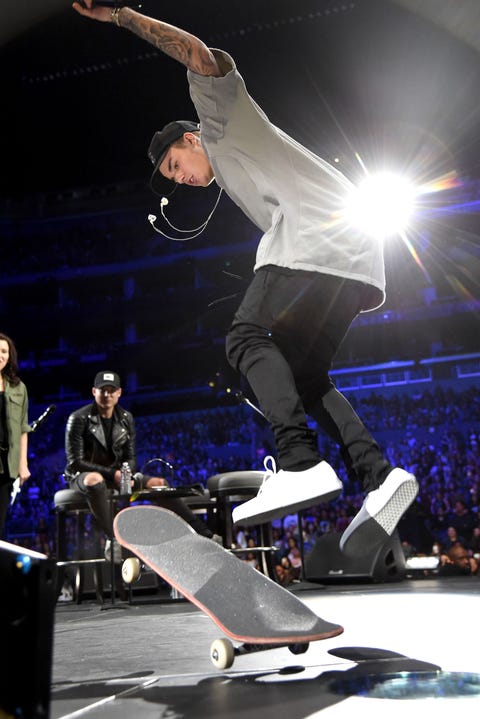 Skateboarding "is probably bigger than it's ever been," says contributing Thrasher editor Michael Burnett. "Everyone's generally more aware of skateboarding, so maybe that's just how [the sport] seeps into" the fashion world, he reasons. After all, perennial sportswear brands Nike and Adidas have been sponsoring skateboarders for years, while New Balance entered the skate shoe market in 2013.
High fashion's love affair with skateboarding will most likely fizzle one day, reasons Brendon Babenzien. "It's all trend-driven with them, they literally can't stick with one thing for too long, because the kind of person who's seriously into fashion just moves" too quickly, he says.